"Walk of the Immigrants" with Saul Flores Oct. 4 at MCC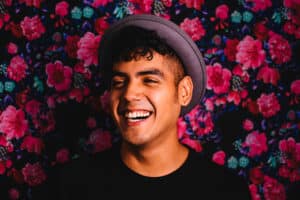 MARSHALLTOWN – In honor of Hispanic Heritage Month Marshalltown Community College will be welcoming philanthropist, photojournalist and speaker, Saul Flores, as he shares his experience of his journey, "Walk of the Immigrants."
Flores' work has been featured on National Public Radio, MSNBC, and TEDX. Additionally, he has been featured as a keynote speaker for dozens of universities, inspiring audiences through his visual presentations, in which he helps people realize the capacity of their immense human potential given times of extreme adversity.
As a first-generation college student born into a family of sugarcane workers, Flores learned the power of grit at an early age. Upon arriving in America, his mother would juggle multiple jobs, and his grandmother would trade aluminum cans for coins to provide for their family.
As a senior at North Carolina State University on a service-learning spring break trip to his mother's hometown, Flores discovered a withering cinderblock elementary school. He found the students living in aluminum shanties and sleeping on the floor. Determined to help make a difference in the lives of the children, Flores made it his mission to raise funds to reconstruct their school.
Through a three-month journey, "Walk of an Immigrant," Flores walked from Ecuador and ended in Charlotte, North Carolina. He walked 5,328 miles through ten countries and nine border crossings to document how grueling and dangerous the journey of immigrants to the United States can be and to raise money for the elementary school in Atencingo, Mexico.
In this presentation, Flores will recount how as a North Carolina State University senior, he took the "Walk" in the summer of 2010. Student audiences get the opportunity to relive The Walk of the Immigrants along with him and create a deeper understanding of the struggles, hardships, joy, and hope that immigrants experience on their journey.
Flores will be presenting on the MCC campus Tuesday, October 4 at 7 pm in Dejardin Hall, room 808. There is no cost to attend this amazing presentation and it is open to the public. Light refreshments will be available following the presentation. Flores' visit to campus is sponsored by the MCC Diversity, Equity, and Inclusion Committee.