Power of Community College Trades Programs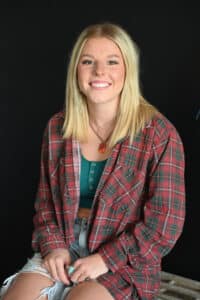 Early in life, Evah Owens knew that the four-year route wasn't the right path for her. She wanted to find an education that wouldn't keep her behind a desk. She knew that she wanted to go to college for a trades program.
Owens' college choice was heavily influenced by her Aunt Peggy, who has been a Powerline worker for over twenty years. "My aunt inspired me to go into Powerline," said Owens. Owens had two options for Powerline programs in Iowa, applying at Marshalltown Community College and Northwest Iowa Community College in Sheldon during her junior year of high school.
"Sheldon had a waiting list, and I wouldn't have gotten in until August of 2022. MCC was closer to home but far enough away for me and I didn't want to wait," commented Owens. Once on the MCC campus, she knew she wanted to become more involved right away. "I was very active in high school athletics and going from a four-sport athlete to nothing didn't work for me." She walked on to the MCC volleyball team and earned a scholarship.
Even though Powerline has become more of a common career for females, it is still currently less than 10 percent female. When asked how she feels about going into a more male-dominant field Owens' commented, "The older generation of linemen overall still struggle to work with females, but I love to see more women entering this career. I talk to other girls about it and the possibilities. I was a wrestler in high school which was just sanctioned this year so there are a lot of doors opening all the time."
Owens' started in the trades programs early, taking classes for free during high school in both welding and construction through Kirkwood Community College. She knew that the hands-on training was more of what she was looking for. "I didn't want to be in a classroom reading. I'm not good at focusing and that's not the way my brain tends to work. I can fix things and I'm good with my hands. I'm smart but I don't like classroom work."
The advice Owens' would give other females thinking of going into the trades and specifically Powerline is to just try it. "At MCC you have the first week to try it out and decide. You climb the poles, and you know if it's something you want to and can do. You need to put in the effort. Always put the work in and see what comes out of it."
In a class with only one other female besides herself, Owens' felt like her classmates accepted her. "There are always certain people that are going to doubt me because I am a female, but overall they included me. I started in the Tuesday and Thursday class and those guys were like my brothers. They thought it was so cool I was there too. When I switched groups, it was a bit of an adjustment, but we got used to each other."
Owens' enjoyed the MCC Powerline program and specifically working with Powerline Technician Faculty, Doug Curren. "Doug was a great instructor especially with me and Meghan, the other female student. He was always respectful but still treated us the same as the male students. He pushed me more than I thought I could go." Through the MCC program, Curren had them learn a variety of skills that they will see in the workforce. "It was more than just climbing poles. He threw everything at us that he thought we should know. We worked on cross arms, hanging wire, and underground." Owens' enjoyed the variety that happened every day in training. "It was always positive and entertaining in the classroom."
There are both challenges and strengths in being a female in the Powerline program in Owens' opinion. "The biggest challenge is strength. I've always been active, but boys can do it easier. I just learned to figure out different ways to get things done." One strength that she thinks she has in her classes was the way she thinks. "I tend to process situations in my head and think things through before I do or say anything. The boys in my class just tend to blurt. I think I have more patience."
Owens' enjoyed her time at MCC and the Powerline program. "Everything I learned at MCC has been beneficial and I had so much fun! Doug was great! The variety of skills he taught us and the knowledge he has is a plus. Even now I know that if I need anything I can count on him even after I have graduated."
Now that Owens' has graduated from MCC, she is applying for jobs and is specifically hoping to find a position at Alliant Energy. "Working at Alliant is my ultimate goal."
Want to find out if the Powerline program is the right choice for you? Find more information at mcc.iavalley.edu/utility-technician/ or call 641-844-5710.