Kim Hanken Exhibit in MCC Ray Frederick Gallery begins Jan, 23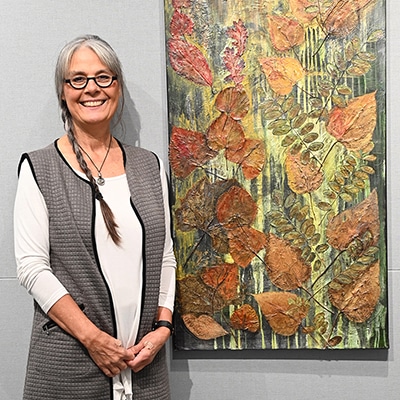 MARSHALLTOWN – Marshalltown resident, Kim Hanken will open 2023 as the next featured artist in the Ray Frederick Gallery, on the Marshalltown Community College campus. The exhibit will open with a public reception on Monday, Jan. 23 from 12:15 – 1:30 pm and will be on display until Friday, Feb. 17 at noon.
Hanken considers herself a mixed media artist and her exhibit will reflect that. She has been an artist since she was a child and had some great mentors. "First it was my grandfather. He realized I had talent as a child. He wanted me to send him anything I painted or drew. When I would go to his house, he would have them on display in his garage."
Hanken's other mentor was her art teacher from 7th grade until graduation. Both people recognized her artistic talent and encouraged her. After high school Hanken attended the University of Northern Iowa. "I had some great professors that taught me so much. I learned about texture and color and break up of space; all of which is very important in creating a painting." After deciding to go a different direction with her education and career, most of what she learned from there was gained through experimentation. "Over the years I have experimented through trial and error with many types of mediums and found objects and have watched how these items create texture and movement which provide a place for the paint to entangle itself."
Painting was Hanken's primary media for a good portion of her life but the last 7 years she has started working with more mixed media, using objects that she finds in nature. "I find treasures that the earth provides and interject them into my art. All of the waste products and earth treasures used in my art were at the end of their life and chances are they would have been discarded and not thought of again. My hope is that my art creates awareness around bringing these things back to life; sometimes in a conventional way, other times very abstractly".
After being on a four-year waiting list, this will be Hanken's first exhibit at MCC. "That in and of itself is super cool. Who wouldn't want to sit on a 4-year waiting list. It shows how important this is."
The biggest thing that Hanken is hoping people will take away from the exhibit is to get people to fall in love with our amazing earth. "The art I am creating today speaks of our planet and all that it provides on many levels. There are so many things in our world to reuse, repurpose, and recycle, and my hope is that through my art I can get people to fall in love with the earth and create awareness on being better stewards of our planet."
Through her involvement in the Marshalltown Mural committee, Hanken feels that the new murals have provoked the community to talk more about art. She feels that art is very personal to everyone and not everyone likes the same thing. "We want people to talk about whether they like it or not, but the important thing is that they do talk about it."
All of the pieces on exhibit will be for sale. The Ray Frederick Gallery is open weekdays from 9 am to 5 pm. For more information contact MCC Art Professor Tim Castle at 641-844-5776 or Tim.Castle@iavalley.edu.