Gail Hashemi-Toroghi exhibit in MCC Ray Frederick Gallery begins Feb. 27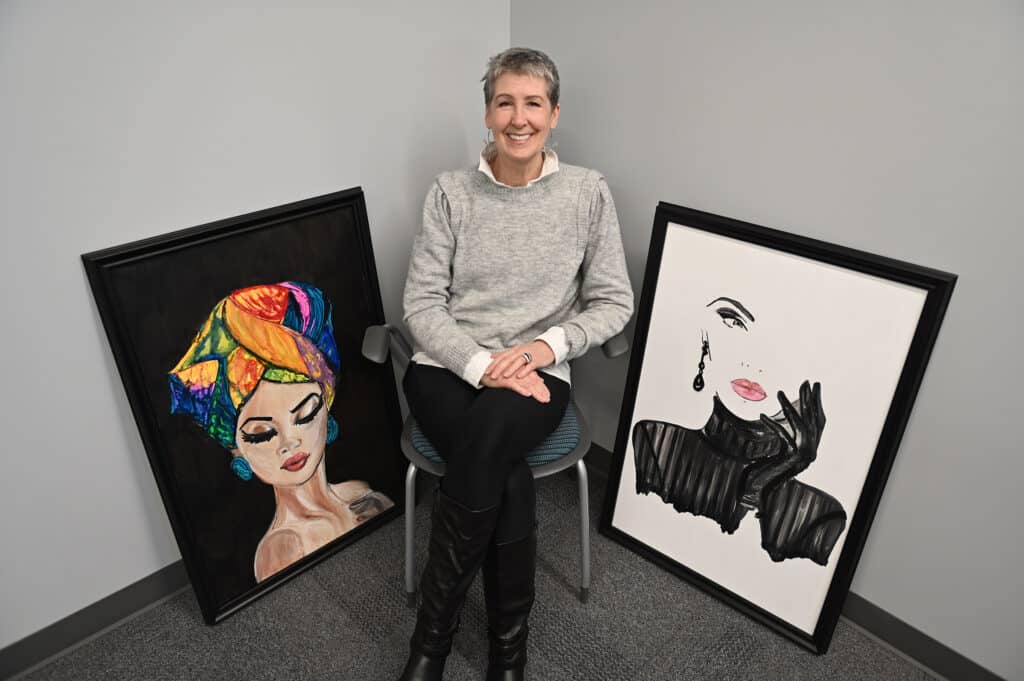 MARSHALLTOWN – The beauty and creativity is obvious when looking at Gail Hashemi-Toroghi's art work but what makes them even more entertaining and intriguing is what is used to create them. The use of melted crayons is present and primarily used in each piece of the untitled exhibit at the upcoming Ray Frederick Gallery, on the Marshalltown Community College campus. The exhibit will open with a public reception on Monday, Feb. 27 from 12:15 – 1:30 pm and will be on display until Friday, March 31 at noon.
Hashemi-Toroghi started using crayons in her art by fluke. Anyone that knows her knows that she is always doing some type of construction or demolition. Almost two years ago she was working in her basement and came across a box of crayons that her grandchildren had been using and allowed to sit out and melt. First thought, was what a mess but then she started looking at it and discovered the beauty of the melted crayons.
People that have seen Hashemi-Toroghi's art don't realize what the media is at first sight. She uses a heat gun in one hand while she is creating and in the other holding the melting crayon. "It's an odd media and concept but it isn't coloring. It's controlling the melting. Using a crayon is like herding butterflies or cats. It is quite odd to work with," commented Hashemi-Toroghi. Portions of the art pieces may have small amounts of outline in dimensional painting but otherwise crayon is used throughout and a paint brush to apply details also in crayon.
The start of using crayon for her art brought back several memories for Hashemi-Toroghi and she thinks about them still when she is creating. "When I was younger I had older brothers and sisters. I always got the leftover broken crayons. As I got older I started getting a box of eight crayons, than 16 and so on. Finally, I remember getting that big box of 64 crayons and a sharpener! I thought it was the most wonderful thing in the world," Hashemi-Toroghi reminisced.
She also shared that when her son Alex, who is now 27 and was 5 at the time, did a painting on their basement wall of van Gogh's The Starry Night. She laughingly shared that it wasn't the best painting but it is still there and holds such a special memory for her and creating art and it was the first thing that she really created. "We were having fun. I had done little things but nothing really serious."
Hashemi-Toroghi's basement continued to be her canvas as she experimented with crayon. "I had a set of shelving that I was going to throw out and instead tried the technique and created an outline of a tree using the brown crayon and it turned out so cool. I experimented on the basement floor creating water and the ocean. It has been a struggle and there has been a learning curve but I enjoy creating with crayons. A simple crayon can bring such vibrant life."
Hashemi-Toroghi believes that crayons and the use of them are like a metaphor for life.  "At first you have to stay within the lines when you are little. Those first lines when you are coloring provide structure and following the rules was the goal partially. It's what is expected. You start off with the older crayons from brothers and sister and then you get the good stuff. Black and white are hardly used but in life it's what gives us definition and boundaries and helps shape and define your world. Broken crayons are still color."
Though Hashemi-Toroghi has no formal art training, she comes from a very creative family and her children carry on that trait as well. "When I was growing up, if we needed something my mom would make it for us. She could do almost anything with almost nothing. She used to make cakes for people when they asked, and she created them from nothing. It was always fascinating." Hashemi-Toroghi said that her younger sister always used the saying "Necessity is the mother of invention," which she thought applied perfectly to her mother.
This is not only Hashemi-Toroghi's first display at MCC but also her first professionally. When asked what she is most looking forward to about the display she said, "I'm excited to see them in a professional setting and people see them all together. I really hope my mom and little sister, Mary Lou, are able to see the display. There are always going to be critics but I'm proud of myself."
She is no stranger to MCC though. Her husband, Hashem Hashemi-Toroghi has been an Economics professor for decades for the institution. In addition, she is also a proud alumnus of the Dental Assisting program. "My youngest daughter was considering becoming a dentist and decided to enroll in the Dental Assisting program at MCC to see if she would enjoy. I decided since I had time, I would take the classes with her as well. After the first semester she decided it wasn't for her, but I loved it!"
Hashemi-Toroghi is hoping those that see the display really understand that she is using crayons to create the pieces and it's pretty cool. "This is me putting myself out there. I hope the pieces evoke something in them. Even if they just look at it and smile or have a peaceful thought, that's good enough for me."
The joy Hashemi-Toroghi has when she speaks about her art is evident. When asked if she used a normal box of crayons to create such beauty, her face lit up and she commented, "Yes, I use crayons but do you realize that they have glitter, pearlized and metallic crayons. My daughters were always involved in ice skating, dance, gymnastics and sports. We all loved sparkles, sequins, sprinkle and glitter. The first three were easy to incorporate the bling. And believe me, they also incorporated "pretty" in their sports. So these types of crayons constantly remind me of their joy and happiness."
"When people think about crayons they always think about kids. I don't mind that. This is an elevation of childhood joy and innocence. I hope they enjoy the pieces and love them like I do."
Some of the pieces on exhibit will be for sale. The Ray Frederick Gallery is open weekdays from 9 am to 5 pm. For more information contact MCC Art Professor Tim Castle at 641-844-5776 or Tim.Castle@iavalley.edu.