January 23 @ 12:15 pm - February 17 @ 12:15 pm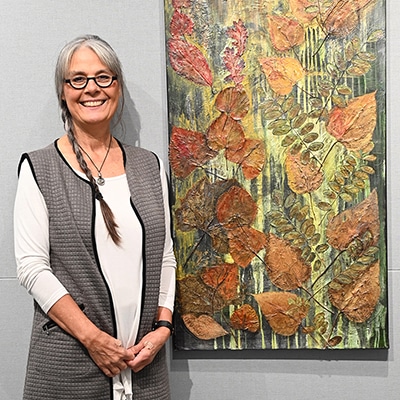 Marshalltown resident, Kim Hanken will open 2023 as the next featured artist in the Ray Frederick Gallery, on the Marshalltown Community College campus. The exhibit will open with a public reception on Monday, Jan. 23 from 12:15 – 1:30 pm and will be on display until Friday, Feb. 17 at noon.
Hanken considers herself a mixed media artist and her exhibit will reflect that. She has been an artist since she was a child and had some great mentors. "First it was my grandfather. He realized I had talent as a child. He wanted me to send him anything I painted or drew. When I would go to his house, he would have them on display in his garage."
The biggest thing that Hanken is hoping people will take away from the exhibit is to get people to fall in love with our amazing earth. "The art I am creating today speaks of our planet and all that it provides on many levels. There are so many things in our world to reuse, repurpose, and recycle, and my hope is that through my art I can get people to fall in love with the earth and create awareness on being better stewards of our planet."
All of the pieces on exhibit will be for sale. The Ray Frederick Gallery is open weekdays from 9 am to 5 pm. For more information contact MCC Art Professor Tim Castle at 641-844-5776 or Tim.Castle@iavalley.edu.